Few weeks ago Microsoft introduced new members of the Surface family. The hybrid devices continue the lineage of minimalist design and increasing performance.
The Surface Event took place earlier than usual this year. No wonder Microsoft wanted to show off. Because the new devices really deserve attention. They were introduced in versions for individuals and for businesses. Today, we're going to focus on the features of business computers.
Surface Laptop Studio 2
Not much has changed in terms of design. It's still a lightweight, sleek device that's easy to use as a portable tablet, laptop or standalone display for video conferencing. Connecting to additional monitors gives you a full workstation. The design is clean and modern, the platinum-coloured aluminium casing isn't marred by any unnecessary elements.

Unlike its predecessor, it has more ports so you can connect more devices, which is good news. The touchscreen is 14.4″. Technologies like HDR and Dolby Vision IQ deliver true-to-life color and sharp contrast. The screen's 3:2 aspect ratio means an 18% increase in vertical workspace.
But the main reason you should care about the new Surface Laptop Studio 2 is performance. Depending on your configuration, you can achieve up to double the performance of the previous version. There's a 13th generation Intel Core i7-13800H inside, up to 64GB of RAM and removable storage of 512GB, 1TB or even 2TB! That's plenty of space for complex graphics, videos and other large files.
Battery life depends on your chosen graphics. If you reach for the Intel Iris Xe version, you can work for up to 19 hours. Devices designed for business offer Windows 11 Pro and high security, including enterprise-level security with tools like BitLocker and Windows Hello.
Specifications: display resolution 2400×1600 (200 PPI) | RAM 16/32/64 GB | weight from 1.89 kg | battery life up to 19 h | 2x more power | Full HD front-facing Surface Studio camera | Windows Hello 2.0 with facial authentication | compatible with Surface Slim Pen 2
Surface Laptop Go 3
If you prefer a classic, solid laptop that's lightweight, portable and easy to carry, this is the device for you. It weighs just over a kilo and the touchscreen has a 12.4″ diagonal. Even though it is small and thin, this laptop offers great performance and good endurance. Unless your work day is longer than 15 hours, you'll make it through the entire time without charging.

It includes a 12th generation Intel Core i5-1235U processor, Intel Iris Xe graphics, 8 or 16 GB of RAM, 128 GB of UFS storage and up to 512 GB of SSD.
The laptop is literally built to cooperate with other devices. For example, when you're using additional monitor, it remembers the last arrangement of apps and the next time you plug it in, you can pick up exactly where you left off.
Microsoft puts a lot of emphasis on security, and that applies to the Surface Laptop Go 3 as well. Count on built-in cloud-based security, an isolated kernel, Windows Hello login, and a fingerprint reader in the power button.
Specifications: display resolution 1536 × 1024 | diagonal 12.4″ | RAM 8/16 GB | SSD 265/512 GB | weight 1.13 kg | battery life up to 15 h | Windows 11 Pro or Windows 10 Pro
Surface Go 4
The latest Surface Go model, serial number 4, is only for businesses for now. It offers better productivity with increased performance. Employees who don't sit at a desk but are out in the field dealing with customers or suppliers will appreciate it. They need a lightweight and powerful device they can just pick up, but can also use as a regular computer when a keyboard and monitor are connected.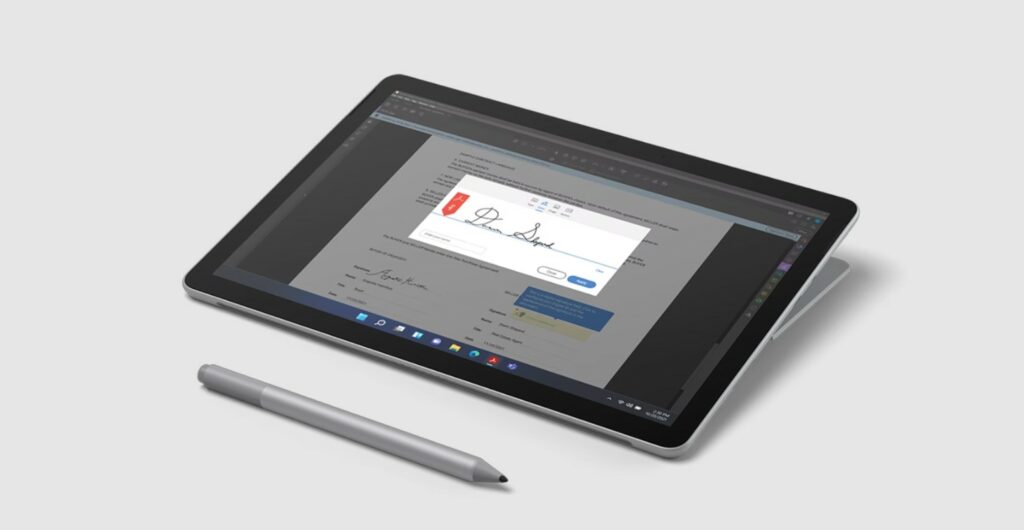 The Intel N200 processor makes No. 4 the fastest in the Surface Go lineup. It lasts up to 12.5 hours in normal use and can withstand tough conditions and situations in the field thanks to its materials and design. Despite its small size, it provides clear audio and video for video conferencing.
Specifications: display resolution 1920 × 1280 | diagonal 10.5″ | aspect ratio: 3:2 | RAM 8 GB | UFS drive: 64/128/256 GB | weight 521 g | battery life up to 12.5 h | Windows 11 Pro or Windows 10 Pro | color platinum | Kickstand
Green facilities
Microsoft has also taken a keen interest in protecting the environment. They emphasize the sustainability of their products. That's why users can replace a range of components, including the motherboard. This makes it easier to have your favourite device repaired, by an authorised repairer of course.
If you're interested in the latest Microsoft Surface, don't hesitate to email our specialists. They will be happy to advise you on the most suitable type for your business and the requirements of your employees.