Do business smart. It's no use wasting time on routine tasks when modern technology can do much of the work for you. For example, they handle your emails. How to do it?
Are you spending your time with going through a pile of emails every morning? And do you happen to overlook an important message or forget to forward one? If you use Microsoft Outlook, it's pretty simple. Let your mailbox sort your mail, forward it, or alert you to important messages.
You still have to read them yourself, as well as make any decisions based on the information in the email. But to make sure you have enough time and space for these tasks, definitely give automation a try.
How does the rule set in Outlook make things easier? For example:
Forwarding certain messages to colleagues or bosses
Sorting incoming emails by keyword or sender into folders
Putting emails with sensitive information into a designated folder
Creating and sending automatic replies
Marking certain messages as read
Sending notifications to the mobile phone in the case of a selected sender (for example, a manager)
Marking selected messages with the "important" flag
Displaying specific messages directly on the desktop
And many other steps. You can set up the rules in really detailed ways that work best for you. And if it happens that you don't need it anymore, you can easily cancel it in the rules list or temporarily turn it off and then back on again.
How to set up a rule in a desktop application in Windows
Open your email inbox.
On the File tab, select the Information tab.
TIP: If you're creating a rule for a specific sender or for certain keywords in the subject line, you can also access the settings by right-clicking on the message in the folder (usually the Inbox, or any other folder) and then finding Rules in the pop-up menu.
Select Manage rules and notifications.
On the tab, click New Rule.
You'll see the rule templates, or you can create your own.
Click through the options and edit the rule down to the smallest detail.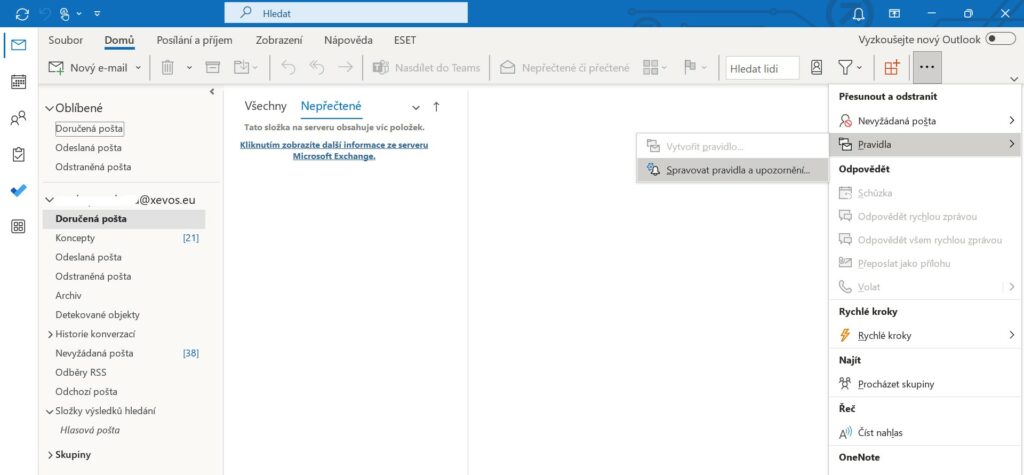 How to set up a rule in a web application
Open Outlook on the web.
On the Home tab, find the Rules option – under the three dots indicating additional options.
Select Manage rules.
This will take you to the rule editor where you can create procedures as needed.

How to set up a rule in Outlook for Mac
Open Outlook for Mac.
Go to Tools and select Rules…
At the bottom of the table, click the New Rule button and follow the steps offered.

Follow our blog and social networks for more tips on how to work more easily in office applications. To manage your IT (completely or just selected parts), get in touch with us. We'll be happy to help.