Microsoft Surface devices are considered to be one of the most compact devices on the market. In this article, we focus on one selected device from the Surface family. This device differs from its predecessors by being a full-fledged upgrade with a new design both outside and in.
Surface Pro X was launched by Microsoft in November 2019, along with Surface Pro 7 and Surface Laptop 3. Unlike other Surface devices, Surface Pro X comes with the Microsoft SQ1 processor, making this 2in1 laptop even more powerful.
In addition to its performance, the Surface Pro X comes with a 13″ touch screen, thinness, compactness and premium sound. Like all Surface devices, the Pro X uses Windows Hello, a biometric authentication that allows you to log in to this Windows 10 device in a flash.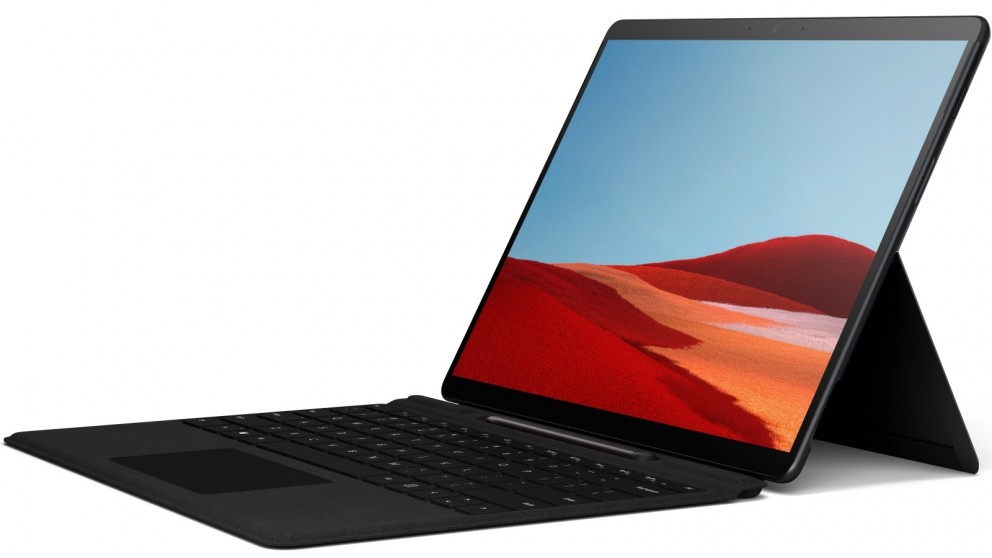 Surface Pro X uses Windows 10, Microsoft 365 and the best of the new Microsoft Edge. It is a light portable full-featured notebook with a detachable keyboard and a "Slim Pen" which is safely stored and recharged in a luxurious backlit keyboard covered with Alcantara®.
Surface Pro X is made of premium anodized aluminum and has pleasant rounded edges. It stands in an upright position thanks to a stand that allows the device to be placed in almost any position.
Thanks to Microsoft Surface Pro X´s LTE Advanced Pro and a battery life of up to 13 hours, th device is perfect for those on the go. Surface Pro X is available in 8 or 16 GB memory with 128 GB, 256 GB or 512 GB storage. Thanks to regular updates, fast and secure login and comprehensive security functions, you always have your work perfectly protected.
Get your Surface device for a special price. Contact us or visit our XEVOS Store.
Keyboard, pen and mouse are not part of the product. You can buy these accessories separately. Contact us for more information.