On Monday, 23rd of January, a new versions of the operating systems for iPhones, iPads, Macs and Apple Watch were released. Along with them, Advanced Data Protection for iCloud became available to Czech users.
Until now, end-to-end encryption on iCloud was limited to only few items, such as passwords stored in a keychain, payment information, health information, map search history, or messages on iCloud, provided that backups were turned off.
Other data was encrypted only in transit and on the server, but Apple had access to it, so it was possible that unauthorized persons could obtain it. That's why we didn't quite recommend turning on backup on iCloud until recently.
Need advice on cyber security issues for your business? Contact us, we will be happy to recommend the most suitable solution for you.

What is Advanced Data Protection for iCloud
Things have been changing gradually since the end of last year. Since January, this new possibility is available also in the Czech Republic. The optional Advanced Data Protection mode on iCloud allows you to turn on end-to-end encryption for more categories than before. These are now protected not only from prying eyes, but also from the service provider. Only the owner of the data can access its contents by accessing it on one of their devices, while they are logged in with an Apple ID with two-factor authentication.
Changes to Apple's end-to-end encryption from January 2023:
End-to-end encryption originally: 14 categories
End-to-end encryption now: 23 categories
End-to-end encryption is now availeble for, e. g.:
iCloud Device Backup
Photos
Notes
Documents on iCloud Drive
Safari Bookmarks
Voice Memos
Wallet Passes
Calendar, contacts and email, on the other hand, are still unprotected in this way, so that third-party apps can access them to enable full functionality. Apple also continues to have encryption keys for some metadata related to categories that are otherwise set to end-to-end encryption. This includes, for example, the date and time a file was modified, but without access to specific content.
How to turn on Advanced Data Protection for iCloud
Advanced Data Protection is an optional mode, with Standard Data Protection set as default. So, if you want to use the advanced protection options, you need to turn them on first.
How to do it on iPhone and iPad?
Go to Settings.
Click on your name at the top and open iCloud.
At the bottom, go to the Advanced Data Protection section.
Tap Turn On Advanced Data Protection and follow the instructions.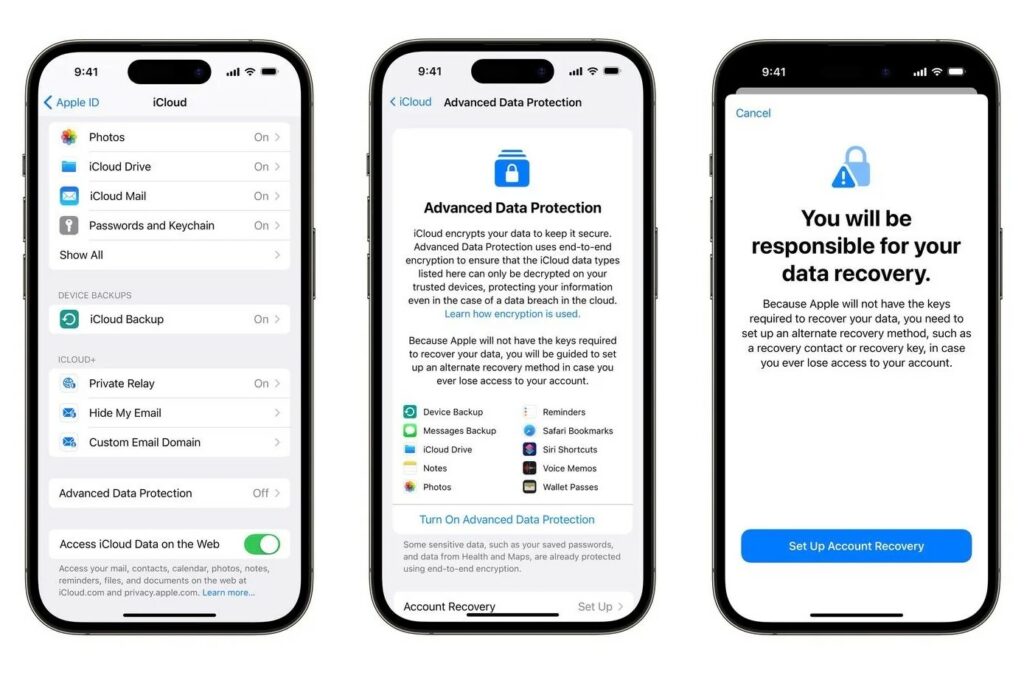 How to do it on Mac?
Click the apple icon and go to System Settings.
Click on your name and iCloud.
Select the Advanced Data Protection menu.
Click Turn On and follow the on-screen instructions.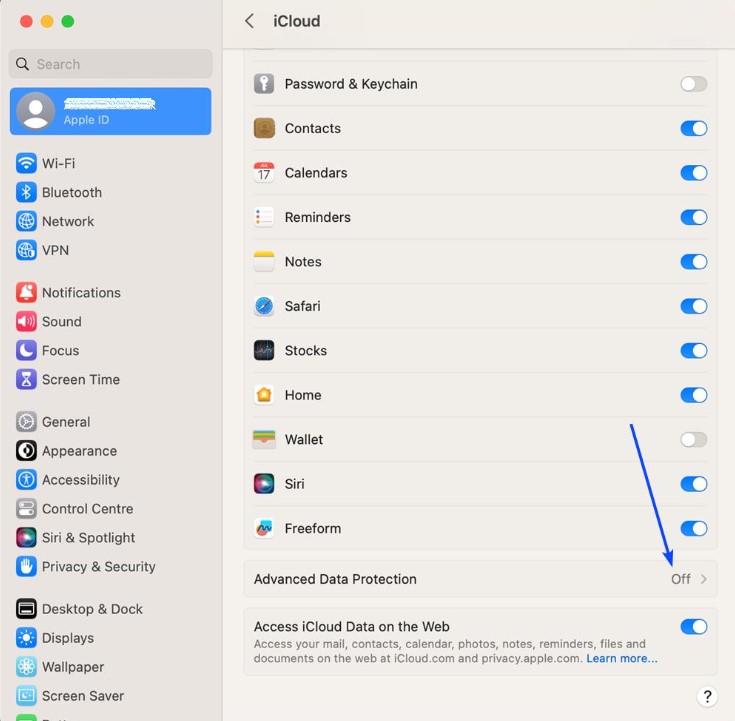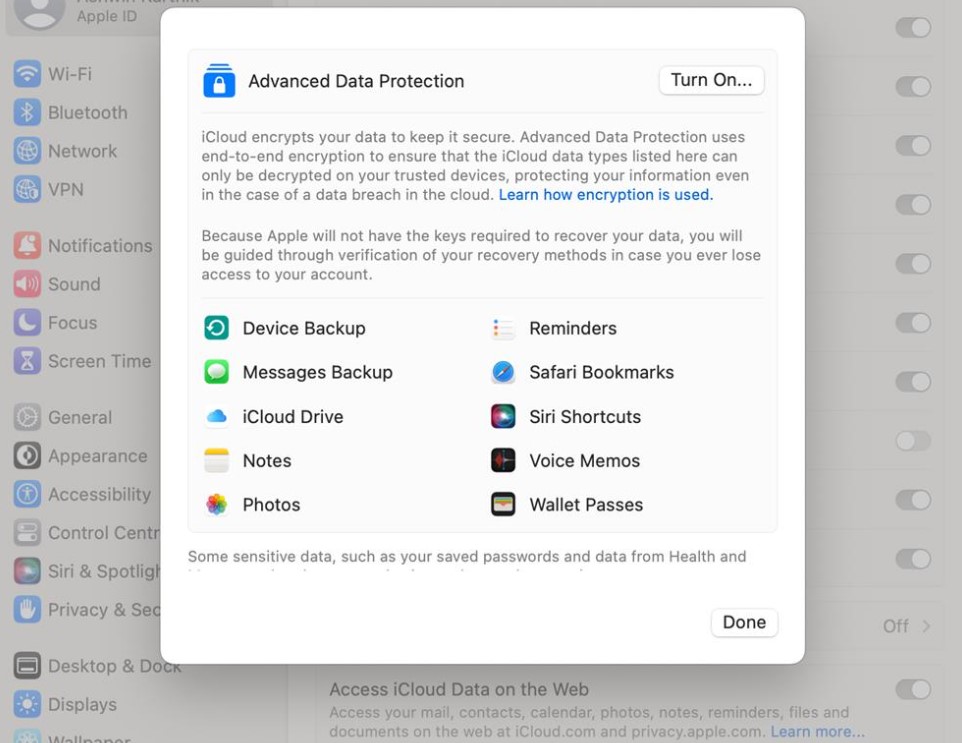 To activate Advanced Protection, you must specify how to restore the data. This can be through a recovery key or a recovery contact. If you don't have these set up, the system will guide you through the process, just follow the instructions on the display.
You can also easily disable Advanced Data Protection, then the original standard mode will be restored.
Other Apple security news
In addition to expanded end-to-end encryption, Apple is bringing other security innovations with the start of 2023, namely iMessage contact authentication (designed mainly for people at high risk of cyberattacks, such as journalists or government officials) and the ability to use a third-party hardware token for multi-factor authentication.