If you access Microsoft 365 tools through Office.com, you may have already noticed a slight change. Starting in November, it's gradually transitioning to a new Microsoft 365 name and icon.
Have you ever gone to open a document from your OneDrive via the website and searched in vain for the usual red rectangle icon denoting Office applications? Instead, there was a purple hexagon? Don't be surprised. Because the Office app has been renamed to Microsoft 365 and the icon has changed along with it.
In November, the new feature started rolling out to Office.com web users, and in January, it's starting to take effect in the Office for Windows app and the Office mobile app.
The change follows Microsoft's earlier move in 2020 to rename the cloud version of its office platform, which includes familiar tools like Word, Excel, PowerPoint, Microsoft Teams, Outlook, OneDrive storage and many more, from the famed Office to Microsoft 365. The original name has remained for the one-time-purchased boxed Office solution (the current Office 2021) and, so far, for the apps that serve as the gateway to using programs from this ever-improving ecosystem. And it is with apps that things are now changing.
Find out, what other new features are coming.
What's new in Microsoft 365
With the new name and icon (which, by the way, matches the Windows 11 color scheme, did you notice?) comes new features and options.
We are really interested in Microsoft Create. The new feature integrates various existing tools such as Word, PowerPoint, Excel and others to create content. When you come to the Create website, you get access to a large variety of templates you can use to create posters, invitations, Instagram stories, social media posts, presentations, and videos. All templates can be customized as you need them. Spreadsheets open up for editing in Excel, invitations in Word, presentations in PowerPoint, videos in ClipChamp, flyers in the upcoming Microsoft Designer, etc. Create is now available in the Microsoft Insider program for now, but should soon become part of regular Microsoft 365.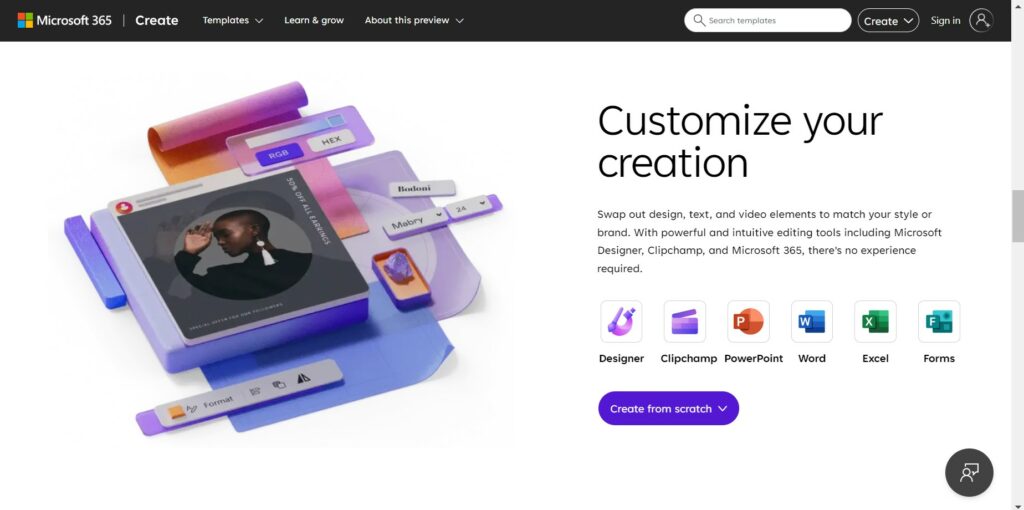 Microsoft 365 app will also allow:
track storage usage and display it on the home page
pin the tools you use the most, so that you don't have to search for them
display your subscription type on the home page
My Content folder available to private users
use of tags to better organise and sort content
Some of the new features will only be available to customers with the paid version of Microsoft 365 for now, but it is possible that they will be extended to those using M365 for free in the future.
How and where do you get the new App?
You don't have to do anything once you're using the app. Changes will appear gradually with updates as Microsoft releases them to users.
If you don't have the app, download it from the Microsoft Store or Google Play and Apple App Store.
And if you're using a haphazard mix of tools in your business and want to move to a comprehensive Microsoft 365 solution, drop us a line. We'll advise you on everything and make the process work for you.