Microsoft offers its famous Outlook e-mail application for Apple computers for free. It's available in AppStore and on Microsoft website, and it's obvious they've taken a lot of care over it in Redmond.
One of the most renowned e-mail services, Microsoft Outlook, has been available in a new makeover for Mac owners since last year. Until now, however, its use has been tied to a Microsoft 365 subscription. That's no longer the case. Apple users can have Outlook for free.
Did you know? Microsoft is making Outlook free for those who work on Windows as well. But that's still in the works. It will be based on the current web form, promising speed and clever features.
Why would you want Microsoft's email on your Mac? Some people need it for work reasons, others have switched to Apple after years of using Windows and have Outlook as their main e-mail app. Some people simply like it best and don't need any other reason. Outlook is one of the most well-known and comprehensive systems. It is interconnected with other Microsoft 365 applications, making workflow easier.
And thanks to the hilarious Mac customization, it's no longer just on Windows, but also on Apple computers, tablets and mobile devices.
What is Outlook for Mac
This e-mail client is a custom-built native app that fits the overall design and concept of the Apple ecosystem, so it won't stand out prominently in the environment. It's airy and sleek, as is Apple's way.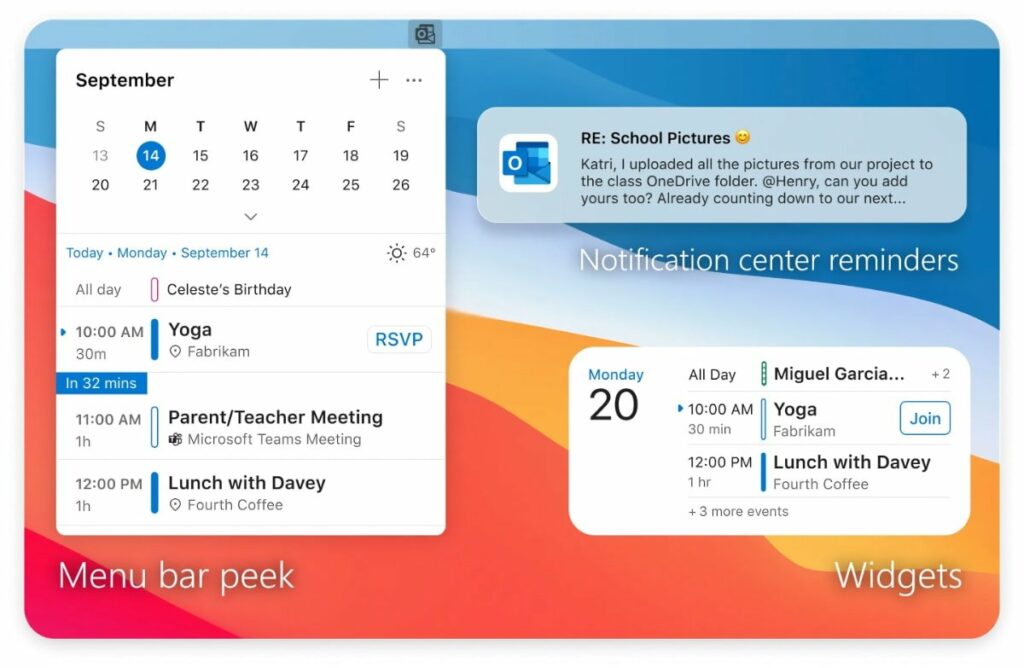 It can send, receive, and sort e-mail, of course, but beyond that it also:
create calendar entries, easily reply to meeting suggestions, set priorities with My Day
easily switch between different Apple devices thanks to the Handoff feature – but to use it, you need to download Outlook from the AppStore and sign in to all devices with the same AppleID
switch between light and dark mode based on your Mac's settings
receive notifications from Notification Center so you don't miss any e-mails
automatically sort e-mails by importance
search more easily using the search box or the Shift+Command+F shortcut
customise the toolbar in your inbox to suit your needs
more easily reply or forward e-mails using the Command+R (reply), Shift+Command+R (reply all) or Command+J (forward) keyboard shortcuts
Outlook for Mac is compatible with other applications such as Gmail, Seznam.cz, and Yahoo. In addition, new features are expected to be added later this year: preview options for upcoming appointments, and most importantly, integration with Apple's Focus mode, which will allow the creation of profiles to better concentrate on important tasks. There will also be contact lists and local folders – for now, the user is only online.
How to get Outlook for Mac
You need to have macOS 10.14 Mojave or higher operating system installed. Then visit AppStore or a special page on Microsoft website and follow the instructions to install.
Apple or Microsoft? With us, you don't have to make a permanent decision. XEVOS is a Microsoft Gold Partner and Apple Certified Integrator. We have experienced specialists for both brands who will be happy to advise you on everything. We'll also combine technologies to keep your business running.

Just give us a call, the rest will be up to us.