You have surely heard about Office 365. But do you know all its apps and features? If not, not to worry. In this miniseries we plan to show you some of the top apps for productivity, collaboration and modern workplace. Stay tuned for information on Microsoft Teams, OneDrive, OneNote, Outlook, Sway or Power Apps.
Before we dive into individual features of Office 365, let us talk about the bundled cloud service itself. What is Office 365? What is Microsoft 365? How does it benefit business clients and what improvements does it bring?
What is Office 365?
Office 365 is a prepaid cloud service from Microsoft with an integrated application and service environment. This product has been operating for corporate and end consumers since 2011 and supports easy team communication, file exchange and project collaboration.
Office 365 connects the software tools with online services. This gives the user self-updating Microsoft Office programs, including a cloud email client, with the latest features and security updates. Users also gets 1 TB of OneDrive storage, to access files from all devices at work or on the go. Also included is Microsoft Teams, a new teamwork hub, chat, meeting and file sharing.
Benefits of Office 365 for business customers
The biggest benefit especially for business customers is the flexibility in managing the number of licenses. Office 365 can be rented by a customer for a specific period, such as a month or a year. Business owners can also flexibly change the number of licenses depending on the number of employees. In the traditional licensing model, once license is purchased for one computer. This model might not always be convenient.
Another advantage of Office 365 is the so called multiplatform, that is the availability of Office apps to function on iOS, Android, Mac and Windows. Finally, one of the most important benefits of Office 365 are the automatic updates. These updates bring improvements and new features that have a positive impact on the overall functionality, increasing the utility value of the entire package over time.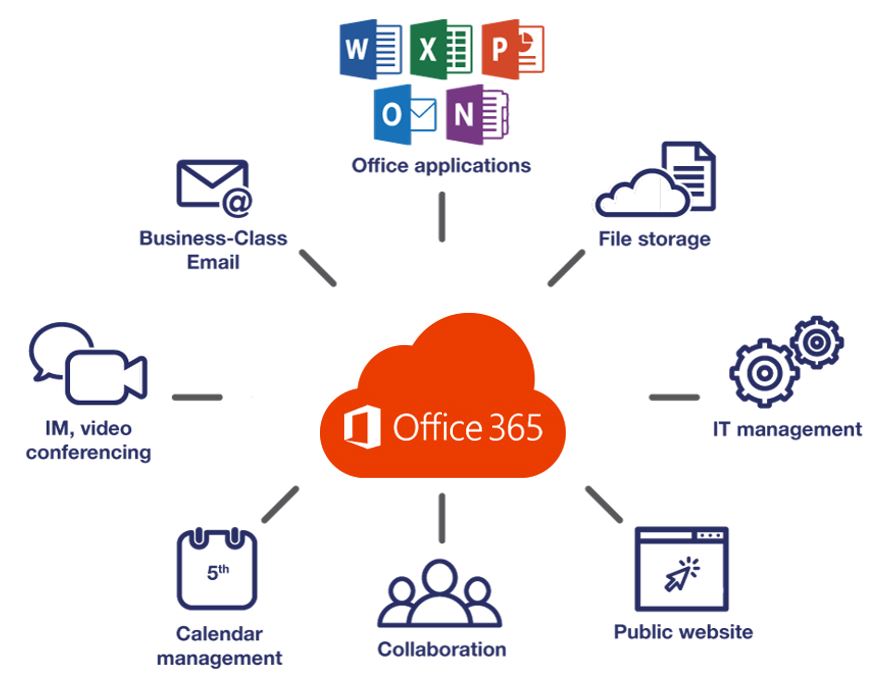 Microsoft 365
In addition to the term Office 365, you might have heard about Microsoft 365. What's the difference? Microsoft 365 is a set of services that includes Office 365, Windows 10, and Enterprise Mobility + Security (EM+S). In other words, in addition to Office 365, customers get an operating system along with security tools. Microsoft 365 Business may interest those customers considering acquiring Office 365 Business Premium.
Summary
Office 365 is the virtual home of Microsoft Office applications. In addition, it also offers large storage for documents or easy data sharing.
e-mail mailbox for corporate communication
access to data and mail from anywhere
1TB data storage for documents
easy data sharing , calendars and contacts
MS Office programs always in the most up-to-date version
installation up to 5 devices for each
possibility of working without internet access
automatic data synchronization after internet connection
audio-video conference calls
all without the need to purchase expensive licenses
clearly forecant monthly IT costs
In the next chapter of this Office 365 miniseries you can look forward to detailed information on Microsoft Teams and it´s collaboration features.