September means the renewal of IT equipment in many companies. New, more powerful PCs and laptops will make work flow more smoothly and improve performance. What do the current Microsoft Surface models offer?
Microsoft's hardware features high performance and a design that looks great in every work meeting. So it's understandable that it attracts the attention of business people. The family of hybrid and classic devices has several lines, so everyone can choose according to their specific needs and workload.
In just a few weeks, we can look forward to new generations of popular Surface devices. For now, let's take a look at the latest ones so you have something to compare them to. And keep an eye on our blog, we'll cover the news as it comes out.
Surface Pro 9
A tablet and laptop in one that's sleek, fast and, above all, powerful. Use it for demanding work tasks, multitasking, complex presentations, but also for playing the latest games or watching movies in the highest quality.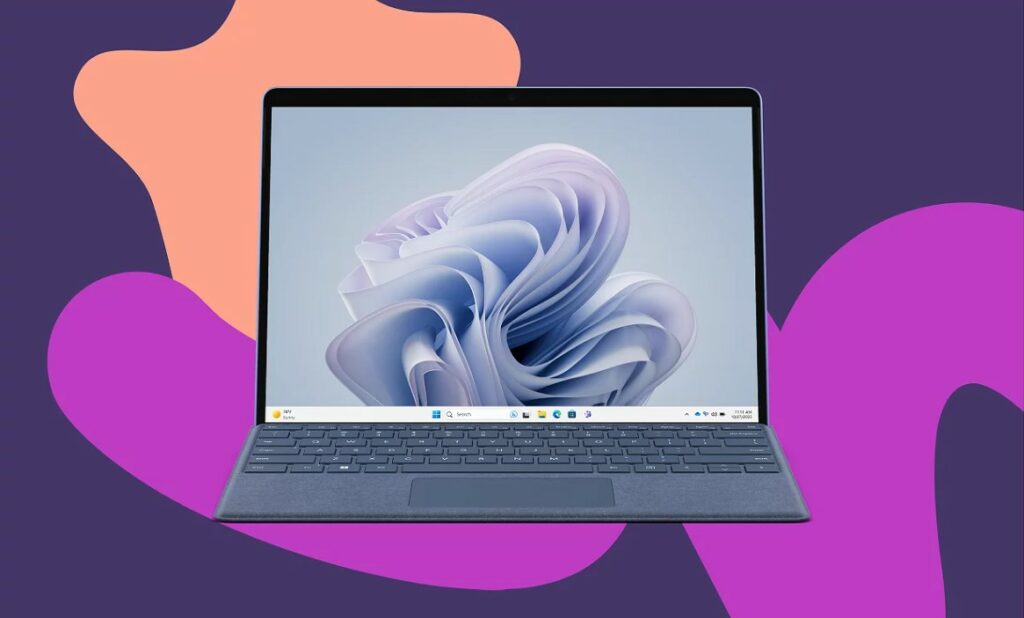 You'll appreciate it if you need flexibility. A laptop (with a purchased keyboard), another time a tablet (with the option to purchase a touch pen), another time a connection to a monitor and other Surface devices – no problem.
Surface Pro 9 has a 12th generation Intel Core i5 or i7 processor, removable storage starting at 128GB, and battery life up to 15.5 hours. You'll be working in a Windows 11 environment with high security, including passwordless sign-in via Windows Hello.
You'll save your eyes with a high-quality edge-to-edge 13″ touchscreen, and your back with a wide range of adjustments: the traditional integrated kickstand lets you find the right screen angle, and the improved HD camera captures you from a more comfortable angle, so you don't have to hunch and twist and your video calls are a little more comfortable.
Specifications: display resolution 2880 × 1920 | RAM 8/16/32 GB | weight from 879 g | battery life 15.5 h | connectivity 2× USB-C with USB 4.0/Thunderbolt 4, 1× Surface Connect port, 1× Surface Type Cover port | Wi-Fi 6E, Bluetooth 5.1
Surface Go 3
The second series of 2-in-1 devices relies on lightness, storage and flexibility. It's handy if you're out in the field a lot, or if you work in different locations, branch offices or meetings and need to carry your computer with you. Anyone who needs to take quick notes, photos or sketches will appreciate it.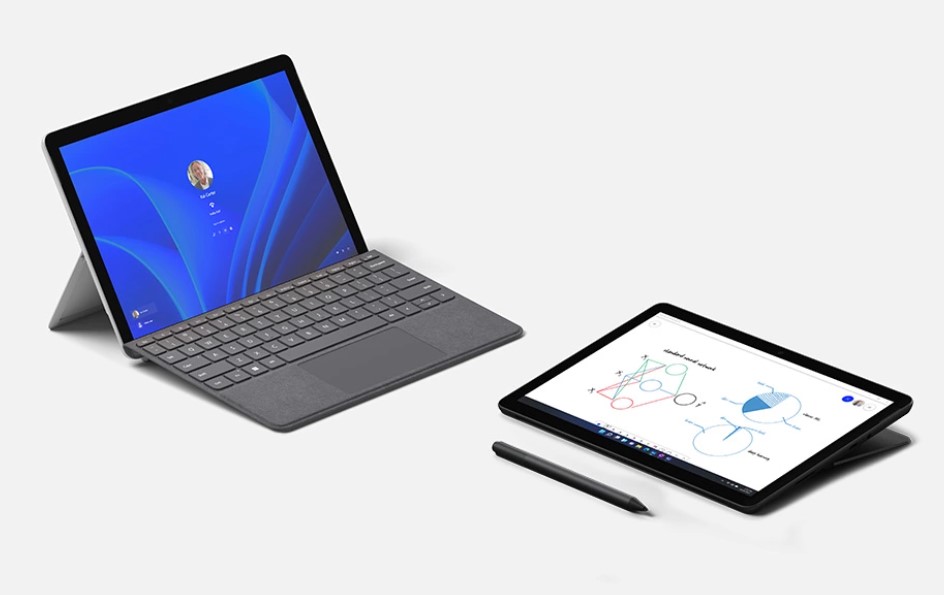 It has a 10.5″ touchscreen and weighs just 544g, so portability really isn't an issue. The obligatory built-in stand and separately sold compatible keyboard and pen make it easy to use. The battery lasts up to 11 hours and charges quickly. Inside is a 10th generation Intel Pentium Gold or Intel Core i3 processor and a Windows 11 operating system with high security and Windows Hello login.
Specifications: display resolution 1920 x 1280| RAM 4/8 GB | weight from 544 g | battery life 11 h | SSD storage 128 GB | 5MP front camera | networks Wi-Fi 6, Bluetooth 5.0
Surface Laptop 5
If you prefer a classic laptop, the Surface Laptop 5 is ideal for you. Available in two sizes, 13.5″ or 15″, it's sleek, stylish, and simply beautiful. Lightweight and still easily portable. The smaller model is available in Alcantara fabric or classic metal, the larger is just metal.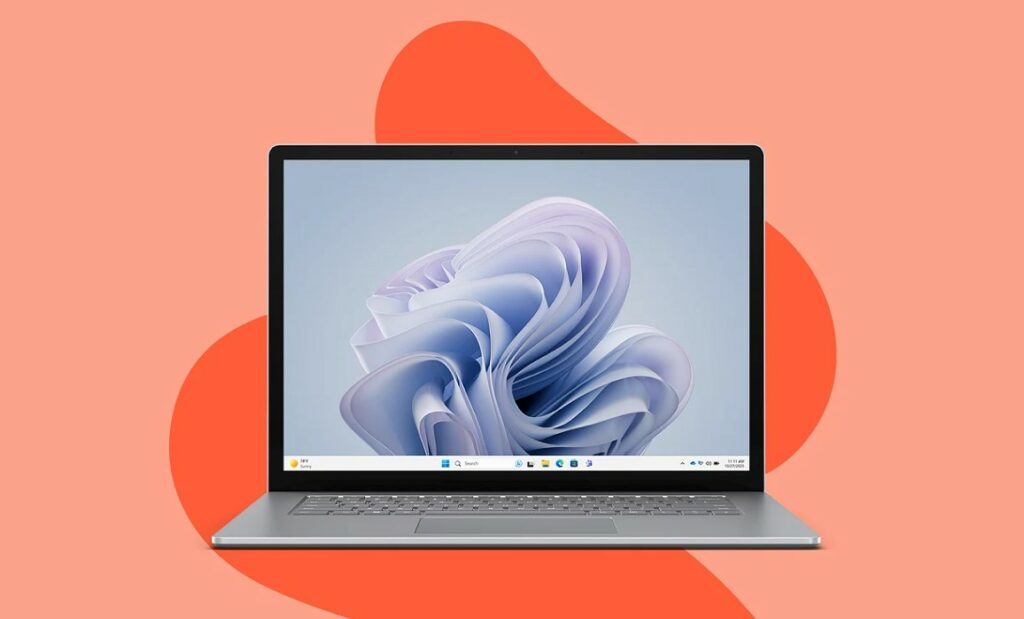 It gives you truly fast multitasking for up to 17 hours on a single charge. And a pleasant typing experience thanks to an improved keyboard that boasts perfectly balanced key travel and responsiveness. You'll find it easy to navigate the monitor thanks to the large trackpad.
Inside, powerful 12th Generation Intel™ Core™ i5-i7 processors tread, Windows 11. And an emphasis on security and easy login with Instant On and Windows Hello. Dolby Vision IQ and Dolby Atmos technologies deliver perfectly crisp images with vivid colors and rich details, as well as professionally perfect sound.
Specifications Surface Laptop 5 13.5: display resolution 2256 × 1504 | RAM 8/16 GB | weight Alcantara 1 272 g, metal 1 297 g | battery life up to 18 h | removable SSD storage 256/512 GB
Specifications of Surface Laptop 5 15: display resolution 2496×1664 | RAM 8/16/32 GB | weight 1,560 g | battery life up to 17 h | removable SSD storage 256/512 GB or 1 TB
Take advantage of the turn of the season and get yourself and your employees new equipment at bargain prices. Just contact us. In addition to Microsoft Surface hardware, we also have experts in other Microsoft products. We will be happy to introduce and deploy it and train your employees to use it.